Sometimes we get so used to handling a certain level of pain or discomfort in our lives, we start to feel as if it's normal, something to forever cope with rather than move through and recover from. One place I see this happening at epidemic numbers is in the corporate world.
Although our careers support us financially, they so often erode us physically, mentally, emotionally and spiritually. Beyond the demands of the job, the sheer reality of having to juggle work and family can create high-level stress that the body interprets as trauma. And trauma requires recovery.
Do you find yourself receiving work emails at all hours of the day or night?
Are you put in a position of constant competition?
Do you feel you have to put in extra hours to prove you deserve your job?
Are you at the mercy of your boss' personal moods?
Do you feel like, between work and family, you have two full time jobs?
Are you hesitant to set personal boundaries for fear of losing your job?
Do your responsibilities increase while your pay level stays the same?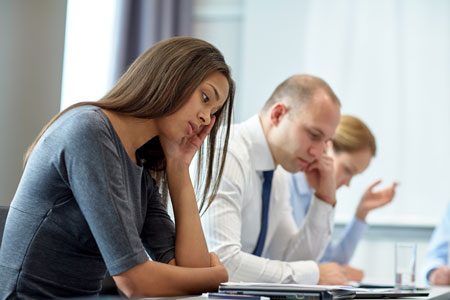 There are many culturally accepted abuses that take place in the corporate world. And they result in unhealthy relationships between you and your job, you and your loved ones, and you and yourself.
I know this pain. I have lived it. For 30 years I was an administrative assistant in the corporate world. And for most of that time, I was miserable. I felt overworked, and taken for granted and advantage of in more ways than I like to think about. I was too intimidated to speak up and too financially terrified to let go. Worst of all, I knew I wasn't doing what I was meant to do.
So I embarked on the journey of re-creation I now invite you to take. And I am happy to say it has lead me to a life of recreation. I have a career I love. A schedule I love. Clients I love. And even a boss I love. (Myself!) My life is balanced. Supportive. And genuinely happy. It is filled with possibility, ease, excitement and, most importantly, dessert. In other words, my life is now sweet in every way.
No matter how far away or impossible a life free from the effects of an unhealthy career may seem, in truth, it couldn't be closer or more possible. Trust me, I've been there. All you have to do is reach out. When you enter into Recreation Coaching's corporate recovery program, you commit to putting an end to the unhealthy relationships between you and the source of financial support in your life.
As a certified Radical Forgiveness® Coach, a certified Soul Journey's® Akashic Record Consultant and Heal Your Money Story © Coach, certified Usui Reiki Practitioner and a self-taught master in the art of recovery, I can say with confidence I have what it takes to help you. Together, we will walk step by step out of that which drains you and build a launching pad from which you can soar.
Over the course of the six-month Corporate Recovery program,
you will be guided through six key steps to:
Identify the bigger picture at play in your situation
Own the empowerment of change
Eradicate the patterns that keep you stuck in your
current situation
Eliminate the energies of limitations and embody those of possibility
Activate new opportunities and avenues of adventure
Operate from your new platform in a way that feeds your passions and fills your life with that which makes you happy.
Are you ready to make that kind of change in your life?